Buying Time… Professional Organizing Solutions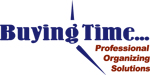 Buying Time… is a Professional Organizing, Home Staging and Redesign company serving the Albuquerque Metro and surrounding areas. Our services offer customized solutions to make the most of your space, time and productivity.
Many of us lead very busy lives and find it increasingly difficult to get and stay organized. Buying Time… can make the best use of space in every part of your home or office, and work with you to tailor a system to help you keep it that way.
Residential: any room in your home
Business: sole proprietors to corporate executives
Time/Project Management: work smarter, not harder
Paper Management: eliminate endless piles
Redesign: one day room makeovers